Main components of passenger and freight elevators
---
Protect humanity with the standards of The Times. Great Wall high-end business passenger elevator, luxury configuration, smooth operation, from the integrated control panel to the oversized, ultra-high luxury car, inject modern design concept and environmental psychology analysis, make the whole space more vivid coordination.
---
Message
Traction System
Excellent gear transmission host, very complete integrated design, efficiency of more than 90%, low noise, and strong reliability. The traction drive has been 100% tested in the factory, with a wide range of adaptability, reasonable and compact structure, excellent performance, no wear, comfortable operation, safety and reliability.

---
Control System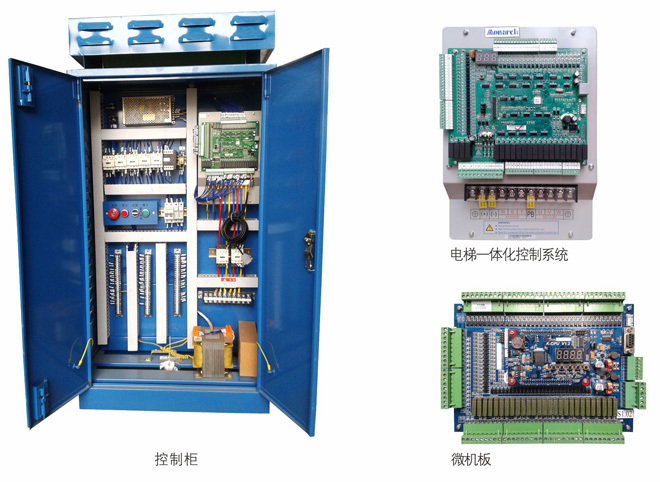 1. Full parallel input and output control;
2. Ultra short layer operation without special debugging;
3. The default function is popularized to minimize the settings for different applications;
4. With the help of the door opening module in advance, it is easy to realize the functions of opening the door in advance and leveling again after opening the door;
5. The rich door function settings can meet the demand of the freight elevator for the diversity of elevator door control;
6. The direct parking effect makes the ride more comfortable and the operation more efficient;
7. All input and output points can be flexibly set as required;
8. After proper setting in the plant, zero parameter commissioning can be realized on site.
---
Open System
Advanced frequency conversion control system is adopted for speed regulation to achieve the best speed curve of door opening and closing, which is mainly reflected in high efficiency, high reliability, high power factor and excellent speed regulation characteristics, simple operation, small starting current, small mechanical vibration, perfect protection function, easy to achieve closed-loop adjustment, etc., and is applicable to elevator cars with various door opening widths.

For more than 30 years, the company has accumulated a lot of experience in design, manufacturing, installation, repair, maintenance and other aspects. Relying on scientific and rigorous quality management system, the company has developed a series of cost-effective products that are well received by customers. The main production and installation: passenger elevator, sightseeing elevator, hospital bed elevator, passenger and freight elevator, car elevator, sunglass elevator, escalator and automatic sidewalk, lifting equipment and other types of elevator, lifting equipment and related accessories products. Products are sold all over the country, has established a perfect sales network and after-sales service network throughout the country, 24 hours a day to respond to customer service needs.
China's elevator industry, is experiencing the transformation from product technology to safety services, the Great Wall elevator, has been adhering to the "safety of the Great Wall, enjoy the excellent joy" product development concept, determined to "intelligent building of China's elevator heart peak", with service, build the Great Wall of China's elevator.
Case presentation



Related Content
Great Wall Elevator is A elevator manufacturing enterprise with nearly 30 years of experience, A-level elevator installation, maintenance and transformation enterprises
Leave a message with your request
---
Welcome any questions feel free to leave a message to us, we will get in touch with you as soon as possible.